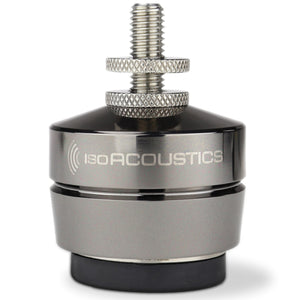 *SOLD IN SETS OF 4
GAIA III: provides improved sound clarity and openness for floor standing speakers
Crafted with the vision of providing extraordinary acoustic performance, the GAIA III is the union of aesthetic visual design and acoustic engineering. Compatible with floor standing speaker weighing less than 70lbs, this small compact design delivers unbelievable acoustic isolation that will bring out a clarity and openness from your speaker you've never heard. The GAIA III comes with three different thread sizes: M8, M6 and ¼-20.

Specifications
Dimensions (WxH): 1.7" x 1.5" (43mm x 39mm)
Weight Cap: 70lbs (32KG) per sets of 4
Quantity: 4 per box
Thread sizes included: M6, M8 and 1/4-20"